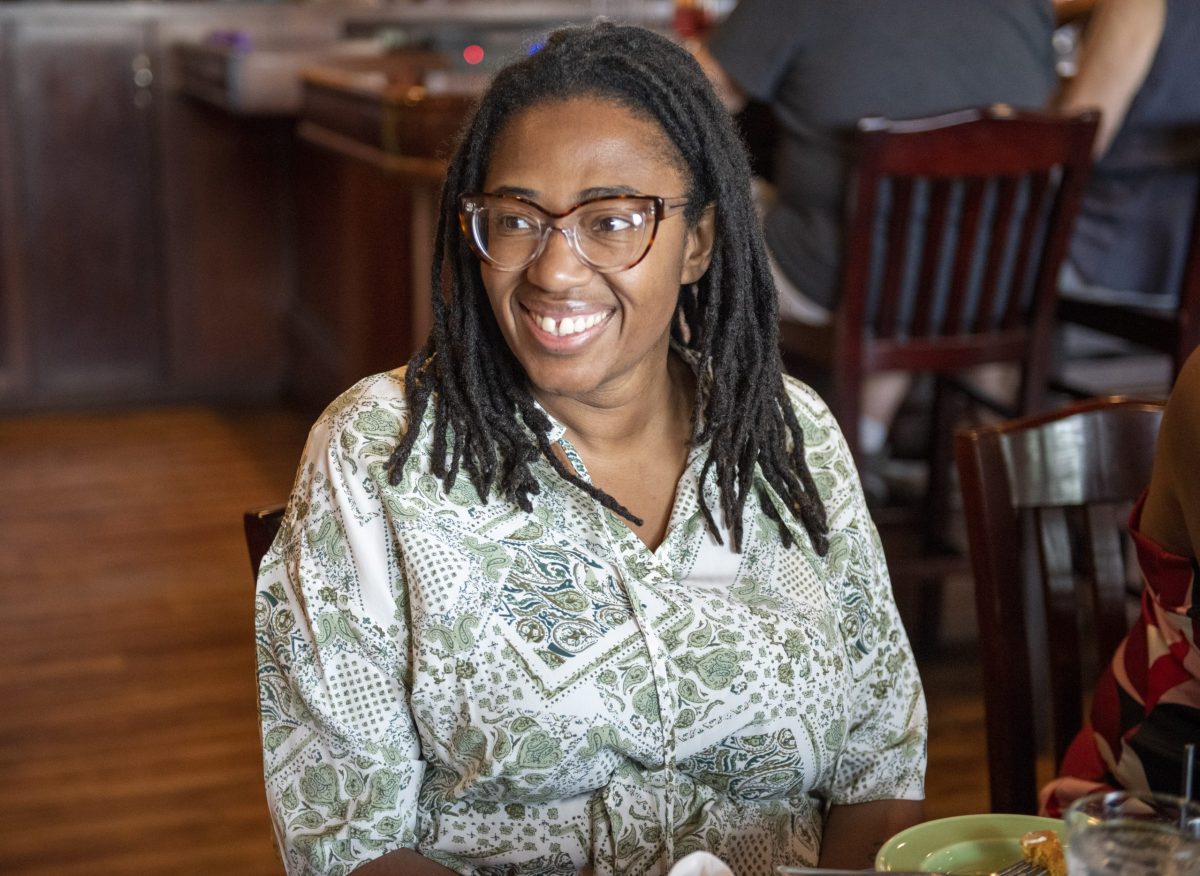 Triad City Beat | Brunchin' while Black: women of color find their brunch tribe in Winston-Salem
Featured photo: Tasia Wilson, the organizer of Brown Skin Brunchin' at Sweet Potatoes in Winston Salem on June 11, 2022. (photo by Juliet Coen)
Tasia Wilson wears a white and green paisley maxi dress that skims her ankles, her feet are secured in strappy sandals with sheer bands. Her hair hangs comfortably in loose locks just past her shoulders and her dark brown eyes match her caramel tortoiseshell glasses. She is dressed, but not too much. It is the ideal solution for brunch.
As she walks through the doors of Sweet Potatoes in Winston-Salem on Saturday just after noon, she asks the host if he can round up a few tables; she expects company.
While waiting for the others, she returns to her car parked across the street and pulls out a bag full of props for the event. Back at the restaurant, she sets up a painting above the table where she is sitting. "Welcome to Brown Skin Brunchin' Winston-Salem," it read.
"You know, black people culturally, we've always come together and food is that common thread that gets people to open up," Wilson says. "So being able to do that and you know, feeling beautiful while you're doing it because when you think about brunch, you get a little dressed up, don't you? It really feels good to be able to offer that space to people.
Wilson has hosted five events this year as the Winston-Salem Ambassador of Brown Skin Brunchin', an international organization that was launched in 2018 by founders Lillian Jackson and Melissa Mason. Brown Skin Brunchin' goal is to create a space where black women can gather, network and enjoy brunch together. Attendees pay $10 in addition to paying for their meals to attend the event, which goes directly to helping offset the running costs of the organization. Currently, Brown Skin Brunchin' operates in 70 cities with over 1,000 members attending in-person events per month. And while the concept is simple, it has become an important part of Wilson's life.
"It's liberating," Wilson says. "I feel like we have a space to talk about things that are unique to us as black women. I feel like we can be ourselves.
Wilson first heard about Brown Skin Brunchin' from a friend who discovered an event in Raleigh. After finding out the event was sold out, Wilson reached out through the website to see if she could start a chapter at Winston-Salem. Since January, Wilson has been hosting brunch each month at various locations around town, including Cin Cin Burger Bar, Firebirds, Bleu, and Sixth and Vine. For June, she wanted to spotlight a black-owned business due to the June 19 holiday. As a social worker by training, Wilson says she loves being able to connect with people and facilitate relationships.
"I like being the person with the resources," she says. "I've actually made connections through that, so part of what I like to do is give introductions and get people talking about their business and random things that come up."
As she sits at the table for 10, a few women begin to stream into the restaurant. As soon as they see the sign, they walk.
Vicki Preston, who discovered the Winston-Salem chapter via Instagram, has attended three of the brunches since their inception. She recently moved to town and says she was looking for a brunch community.
"Moving to a new place for me and not knowing anyone, I just wanted to meet new people who have common interests and brunch and like-minded women," Preston says. "The image which is normally represented [for brunch], not all faces look like us…. You feel comfortable being your authentic self. Last time we played games and we played urban trivia. »
Etaundra Thomas says the group was a way to be social outside the home after raising her children.
"I was looking for camaraderie," says Thomas, who was attending his first brunch this month. "I'm an empty nest, so I was looking for something to belong to."
Like Preston, mother-daughter duo Shakeyda Jones and Najhia Myers are new to Winston-Salem. Dressed in matching floral tank tops, Jones says she discovered the organization on Instagram and decided to come as soon as her work schedule as a nurse allowed.
"I was like, food? And my people? Absolutely," Jones says.
Seeing a group of black women come together like this is encouraging for her and good for society, Jones says.
"I resent the way they portray dark-skinned people in the media as freaks, as beasts, as uneducated, as violent," Jones says. "It's the bottom of any culture, but they take these people and portray us as brown people and that's just not true. So this is an opportunity to show people that we're not like that. .
"It's healthy," she continues, sipping her sangria.
To learn more about Brown Skin Brunchin' visit brownskinbrunchin.com. The next Winston-Salem event will take place at the Famous Toastery on July 23. To register, download the application and reserve your place.
Join the First Amendment Society, a membership that goes directly to funding TCB's newsroom.
We believe reporting can save the world.
The TCB First Amendment Society recognizes the vital role of a free and unfettered press with a set of local experiences designed to build community and unique engagements with our newsroom that will help you understand and shape the essential role of the local journalism in the edification of the population. our cities.
All revenue goes directly to the newsroom in the form of reporter salaries and freelance commissions.