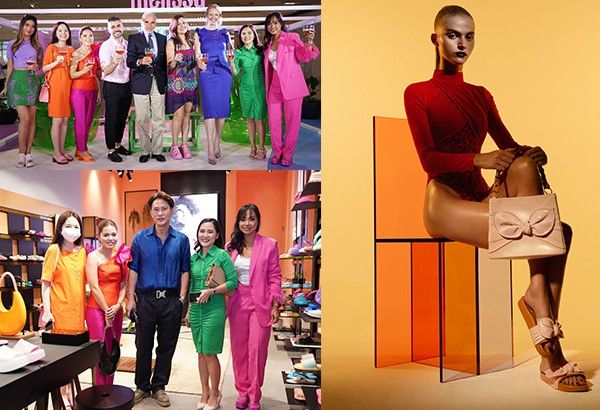 Melissa shoes now made from 30% recycled vinyl mark 15 years in the Philippines
November 21, 2022 | 4:14 p.m.
MANILA, Philippines — Even before sustainability became all the rage these days, Brazilian shoe brand Melissa boasted of its 100% polyvinyl chloride (PVC) material, which makes it 100% vegan — since the materials used in it are 100% polyvinyl chloride (PVC). of animal origin are not used in the manufacture of vinyl, making PVC suitable for a vegan lifestyle.
During the brand's recent 15th anniversary in the Philippines, however, the label marked another milestone: all of its shoes are now also made with 30% recycled PVC.
"Our technology – Melflex – makes our shoes durable and lightweight and 100% recyclable," said Joy Cortez-Dauz, marketing manager for Melissa Philippines. Philstar.com.
Despite the rise of many Brazilian shoe brands in the Philippines, Melissa has stood the test of time in the country – since reaching Philippine shores in 2007 and opening her first store here in 2010 – the first in Asia – thanks to its signature candy scent. and numerous designer collaborations, said Cortez-Dauz.
"Our success in the Philippines is driven by the continued releases of reinvented collections," she said, highlighting their longest collaborations – with British "Lady of Fashion" Vivienne Westwood and Jason Wu.
Since its birth in 1979, the brand has attracted followers all over the world and has collaborated with top designers such as Jean Paul Gaultier, Thierry Mugler, Campana Brothers, Zaha Hadid, Karl Lagerfeld, Vivienne Westwood, Jason Wu, Jeremy Scott, Comme des Garçons, FILA, Marine Serre, Opening Ceremony, Viktor&Rolf, and more recently, Y/PROJECT which is also part of the Fall-Winter 2022 releases.
WATCH: Unboxing the Melissa x Viktor&Rolf Glass Boots
"Fifteen years ago, we started an incredible story about Melissa and Tykes Trading Inc. forming a collaboration that inspired the younger versions of us at the time to start believing in the dream of setting up our single-brand store strategy. Today, our Melissa stores are expanding around the world," said Tassiana Geisel, Melissa's international export manager.[The Tykes company] was the first to believe in this project, in this strategy to take the brand across oceans. We already have a few stores at that time, but they were the first to open a Melissa store in Asia.
From its first pair of Aranha sandals, the brand has spawned many innovative silhouettes, including its best-selling ballet flats and platforms to boots and stilettos.
This year, the brand continues its fifth capsule collaboration with Amsterdam-based fashion forward Viktor & Rolf, featuring branded Party Heel Tie, Mar Sandal Tie, Beach Slide Next Gen Knot and Melissa's bag. , in five colours: orange, brown, pink, white and black.
Cortez-Dauz also announced the brand's big new collaboration for Spring/Summer 2023 – where more platforms, slippers and ballerinas are to be expected. The brand's bags are also picking up sales, "because we want to get into the fashion accessories category, not just footwear," Cortez-Dauz said.
In recent years, the brand has become known for trendy bags like the "moon bag". Its arm candy collections now include mini bags and '90s-style baby carriers in a wide variety of colors.
In time for the 15th anniversary, the brand also launched a new campaign, "Real Jelly," and a fresher store concept that Cortez-Dauz says could be designed to appeal to the younger Gen Z market, but stays inclusive with more size options for men and the whole family.
RELATED: 'Meet the Packers': Aubrey Miles and Troy Montero Share Packing and Budgeting Tips