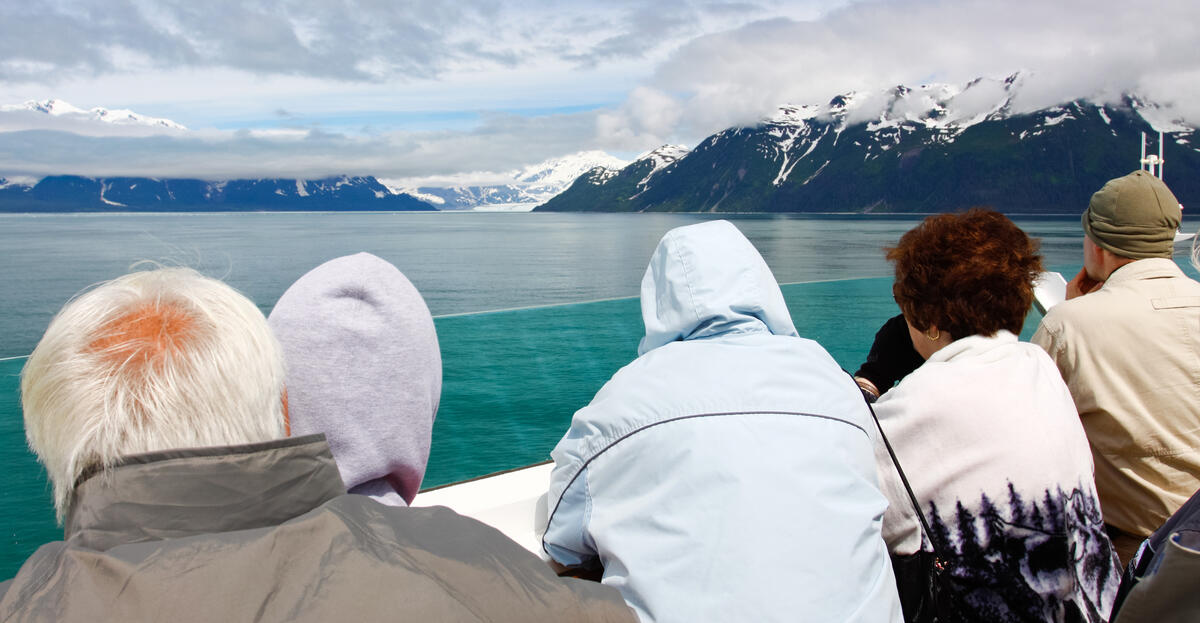 Alaska Cruise Outfits: Ideas of What to Wear
A cruise to Alaska is one of the best ways to see all that this stunning state has to offer. From May to September, cruise ships will cruise the Inside Passage and the beautiful Icefjords of Alaska.
Packing for an Alaskan cruise is very different from packing for a Caribbean cruise. For obvious reasons, the weather and the scenery are complete opposites. You'll trade the sugar-sand beaches of the Caribbean for the snow-capped mountains and glaciers of Alaska.
The weather in Alaska is undeniably the best in the summer during cruise season with more daylight, less rain and warmer temperatures. However, you can still experience rain, snow, and cool temperatures throughout the year.
I sailed three times in Alaska. The first time I sailed to Alaska was from Seward to Vancouver in July. The second cruise was a round trip from Seattle to Alaska in August. The last time I sailed to Alaska was a round trip cruise from Vancouver in May.
Two of my three cruises had typical Alaskan weather with cool temperatures and rain showers throughout the week. I would say my first cruise in July was the coldest while my last cruise in May was slightly warmer but still cold.
Read more: When is the best time to go on a cruise to Alaska?
My husband and I were lucky with beautiful weather when we sailed in August 2021 with 70 degrees and sunny skies all week. We were told several times that our good weather was unusually warm for Alaska, so I think it was just luck.
Essentially, packing for Alaska will require some planning and preparation. Be sure to pack layers and versatile clothing will be key to a successful week's cruise.
If you're looking for outfit ideas for your next Alaskan cruise, look no further! Here's our guide to Alaska cruise outfits to help you plan practical and versatile outfits perfectly.
Focus on layers
When you start choosing your Alaska cruise outfits, focus on packing pieces that can be layered. Focusing on layers will maximize your suitcase space, which is important because warmer clothes will be bulkier. With layers, you can also mix and match outfits based on weather and activities.
Read more: 50 tips for planning your cruise to Alaska
For women, this could include dark leggings and jeans as staple pieces of the outfit. The leggings are extremely versatile for an Alaskan cruise; from active excursions to exploring an Alaskan town in the rain, you won't regret packing black leggings. If it's really cold, you can even layer 2 pairs of leggings for extra warmth.
Plus, leggings can be worn with a long tunic, cozy plaid shirt, oversized sweater, or fuzzy sherpa.
Dark leggings or jeans can easily be layered over a denim jacket for added warmth. A denim jacket is a great piece to pack and can be worn when exploring ports for warmth or as a casual jacket on board ship. I prefer to wear a denim jacket on travel days as the plane is normally cold.
When it comes to layering for men, versatile pieces that can be layered will be the best option for Alaska cruise outfits.
For men, dark jeans and khaki pants can be a great option to wear during the day and on board for dinners. When planning outfits for your Alaskan cruise, it's a good idea to consider whether the pants you pack can also be used for dinner outfits.
Long-sleeved knit or plaid shirts can also layer well under a rain jacket, providing both warmth and versatility. Half zips are another great piece to consider as they layer well with an outdoor jacket but can also be worn with khakis aboard ship.
Prepare for rain
While you can expect incredible weather on an Alaskan cruise, you should be prepared for rain throughout your vacation. Alaska's climate consists of dark clouds, hazy skies, and cold rains, even in summer.
Packing a waterproof rain jacket is a must for your Alaskan cruise, as well as an umbrella. I prefer to bring a black rain jacket because it goes with everything.
If you are cruising at the very beginning or end of the season in Alaska, you may want to consider packing a waterproof jacket with a warmer lining, such as sherpa or fleece. A light down jacket will also be suitable for a cruise in Alaska.
If you don't pack a rain jacket and find the Alaskan weather too cold for you, each port will sell fleece-lined waterproof jackets embroidered with "Alaska." These also make a great keepsake as they are reasonably priced, with some selling for as low as $9.99.
Here is an example of a souvenir jacket that you can get in ports if you prefer to buy a coat during your cruise. I guess at least 15% of the people on our cruise were wearing a jacket like this by the end of the week.
Don't forget the boots
When planning your Alaska cruise outfits, you should definitely think about what waterproof boots you pack. Unless the forecast calls for sunshine all week, these are essential for your Alaskan cruise.
You'll want to make sure these boots are comfortable for walking and any other excursions you might have planned.
For women, this could include Chelsea rain boots or classic Sperry boots. Both of these are perfect options for an Alaskan cruise and pair well with leggings and rain jackets. Hunter rain boots might also be a good option depending on how much space you have in your suitcase.
Men will also want to pack a pair of waterproof boots that can be worn during the day, such as the Timberland Waterproof Boots. If you have active excursions or want to hike, you should consider packing comfortable hiking shoes or duck boots that will go well with your outdoor gear.
Hats, scarves and mittens
Imagine sailing through the fjords of Alaska and getting so close to a glacier that you can hear the ice crack and fall into the sea. It's amazing to see the natural beauty of Alaska on a cruise; but your ears and hands won't enjoy the scenery as much if you haven't packed properly.
As such, be sure to pack a pair of gloves and a hat for your Alaska cruise, as your hands and ears will be cold both in port and on the ship when navigating the Inside Passage .
For women, a nice hat or a warm headband is a perfect accessory for your cruise in Alaska! If it's particularly cold, you can even pack a stylish scarf that you can wear throughout the week.
For men, a beanie paired with a light scarf will be a great addition to your Alaskan wardrobe. A down jacket or vest can also be a versatile piece to add more flexibility to your wardrobe, especially if the weather is colder than expected.
Consider that you'll likely be on the top deck of your cruise ship whale watching or navigating the inside passage, so it's best to have a pair of gloves as well. I had to buy a pair of gloves on my last cruise to Alaska because my hands were much colder than expected.
dinner outfits
Packing for any cruise requires a little thought about what to wear each night aboard the ship for dinners and shows.
In my experience on Alaskan cruises, people are less concerned about what they wear to dinner each night because they've had a long day exploring ports. The ship is not necessarily the destination, as the beauty and wilderness of Alaska really attracts these cruises.
As such, you'll probably need to pack a few cute outfits to wear in the evening when you go to dinner or attend one of the shows. If that's not your thing, you can still enjoy casual dining at the buffet and not worry about packing separate dinner outfits.
For women, I suggest packing a few dresses or jumpsuits for dinner. I love wearing a jumpsuit to dinner because it's comfortable, warm, and easy to wear for a formal night out.
A midi dress with sleeves or a dress with long sleeves is perfect for evenings at sea. Generally, you only need a pair of nice heels, wedges or sandals to wear for dinners at sea, so I prefer a classic pair of nude or black heels.
If you like to go all out for a formal night out, you can definitely pack a sparklier dress; however, it takes up more space in your luggage. With all the warm winter clothing that is typically packed for an Alaskan cruise, you might not have so much room in your suitcase.
For men, dinner outfits should also be a consideration, a pair of slacks paired with a button down shirt and dress shoes is a great outfit for most dinner parties. A blazer is another good versatile piece that can be worn in the evening on your Alaskan cruise.
Men may also consider bringing more formal attire; but again this will take up more luggage space which could be better utilized by packing warmer clothes and boots.
Final Thoughts
Nothing is worse than unpacking your suitcase in your cabin and feeling like you've horribly packed your bags for the week ahead. With unpredictable weather conditions these days, it's even more important to plan ahead and be determined with the outfits you choose to bring on your Alaskan cruise.
Planning your Alaska cruise properly will ensure you've packed the essentials that will keep your outfits warm and cozy throughout the day (unless you're hoping to go shopping while on vacation!).
More Alaska cruise tips: