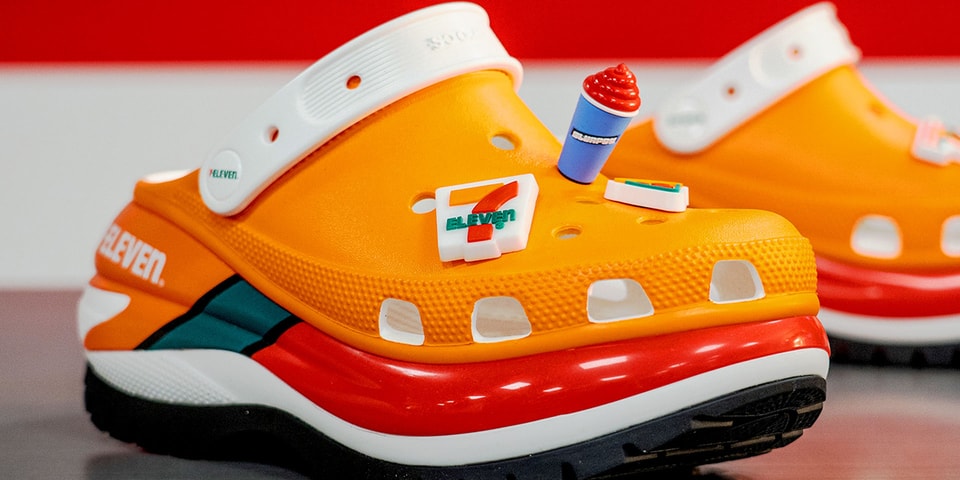 7-Eleven Crocs Mega Crush Clog Release Date
Thanks to the COVID-19 pandemic, Crocs has seen its sales numbers soar due to many people wanting comfortable kicks to have around the house and put on for their daily quarantine walks. And since then, the brand has taken advantage of this rise in popularity by aligning itself with influential partners such as Salehe Bembury, Bad Bunny, Justin Bieber and many others, and now there are plans to add 7-Eleven to its cannon.
The convenience store that satisfies your late-night cravings puts its playful twist on three silhouettes – the chunky new Mega Crush Clog, the Classic Clog and the Classic Sandal. The Mega Crush is an overt nod to the retail chain's logo, as the upper half is crafted in matching orange, while the midsole features red forefoot paneling and green stripes at the midsole. environment. Classic clogs are styled more subdued as the base is dyed black and contrasted by orange in the front. The sandals lean towards the brighter side of the spectrum as they are mostly treated in white but feature straps across the bridge of the foot that are also decorated with 7-Eleven's signature accents. Plus, each pair is packed with fun Jibbitz shaped like Slurpee drinks, Big Bite hot dogs, coffee, pizza and more.
In terms of release dates, Mega Crush clogs are available through the crocodile raffle until September 22, while the classic clogs will both launch worldwide on November 7 (opposite date of 7/11). Prices range from US$50 to US$110.
In other news, KANGHYUK's "COLLECTION 12" SS23 features a collab with Crocs.